How does the Over and Under Goals market work?
The over and under goals market is one of the most popular markets in the sports betting industry, the most well-known being the "Over and Under 2.5 goals". This is the benchmark for the goal market, however, as is known, there is no possibility for a football match to end with a half goal, however, it was the way that bookmakers arranged to present the odds or quotes for a given number goals of the match, in addition to making it easier to recognize the winners and losers in this market. Throughout this article, you will get to know not only the advantages and disadvantages, but also some tips to consider beforehand and accept a bet in the Over and Under Goals market.
Let's use this game, to exemplify how this market works. Considering that you consider that this game between FC Minsk and Neman, has a good preponderance for goals, then you have the option to bet in that direction at 2.15, if you deem it to be a value bet. If this number of goals in this match is confirmed, more than two, our bet will be won and we will receive the prize proportional to the odd.
When considering that the game has a small probability of ending with more than two goals, instead of entering it will make Over x goals, we can enter that there will be less than x goals. In this case, the premium offered for this scenario is 44% (1.44), over the stake, being this scenario that the market foresees as the most likely for this challenge.
Over and Under Asian Market
In addition to the standard market we mentioned above, there is one more extension of this market, which is the Over and Under Asian goals. Below you can see the type of handicaps and also see what has to happen to win, lose or even go from zero to zero, which is one of the peculiarities of this market.
Type of handicaps
Entire handicaps (1.0, -1.0, 2.0, -2.0, 3.0, -3.0, etc.)
Sock handicaps (0.5, -0.5, 1.5, -1.5, 2.5, -2.5, etc.)
Quarter handicaps (0.25, -0.25, 0.75, -0.75, 1.25, -1.25, etc.)
Table of possible scenarios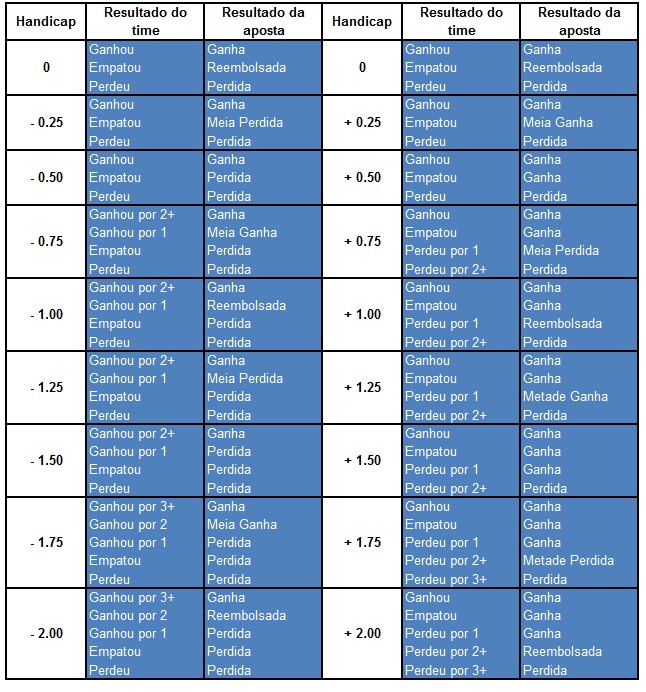 Advantages and disadvantages of this market
A little like all markets, this one also has advantages and some disadvantages.
Benefits:
As it is one of the most popular markets within bookmakers, it is also one of the most widespread markets, making it easy and quick to understand this market and some of its particularities;
It is easier to find value in this market than, for example, in the 1 × 2 market, as it does not present two possible options;
Depending on the result of the match, it is one of the markets that is always active, always following the goal lines, with the result of the match.
Disadvantages:
As it is one of the most widespread markets, it is also one of the markets that may be the most difficult to obtain income, due to the high number of participants in this market;
Most bookmakers, especially legal operators, in a two-selection market, as is the case in this market, insert a higher profit margin for these entities, which leads to the first point, greater difficulty in extracting value.
🍀 Does the Over and Under goals market have disadvantages?
It might be one of the most difficult markets to obtain income from, besides, bookmakers usually insert a higher profit margin in this type of markets.
🍀 What other types of bet exists?
There is more than 30 types of bets in the online betting world. We made a couple of articles to explain how some of them work. Check here how the combined or the multiple bets market work!